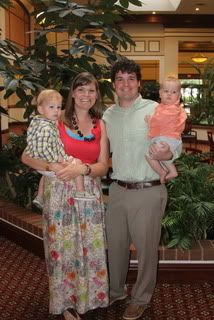 (don't know why this post disappeared, but here it is again! and no, match day was not yesterday, it was March 16)
Match day was yesterday. We found out we will be moving to Kansas city! We are so excited! This will be quite an adventure seeing as I haven't lived outside of a small radius in Texas my entire life! From what ive heard kc is nice. 500,000, with lots to do (key with 2 little boys!). Darryl seems excited about the program and getting to work with the kc royals etc.
I'd be lying if I said wasn't a little scared/nervous (see previous comment). I was sad yesterday when I started looking at houses and typed in a city then put comma, tx. :( but I'm more excited than scared. I know god knows what he's doing and he's holding our little family in his hands.
I really was prepared to go anywhere on this journey...so kc - here we come!
I'm so proud of Darryl!
Blessings,
M